Forbes Middle East – Experience Magical Holidays In Mykonos With Magnificent
---
Forbes Middle East wrote jet an other article about us – here are some outtakes of what they say about Magnificent.
Located in nature's paradise Mykonos, Magnificent provides luxury lifestyle and personalised services. Turning dreams into reality, Magnificent offers bespoke hospitality as well as expertly tailored and distinguished options around the interest and passion of each valued individual. This unique boutique firm showcases a seamless blend of luxury, exclusivity, accessibility and is committed to guest-oriented excellence that will cater to every whim of their affluent and crème de la crème clientele. Magnificent is designed to streamline and enhance luxury travel experiences, to go above and beyond, offering the highest class assistance and providing luxury access to the world's finest upscale privileges. They deliver the very best of unparalleled services with absolute attention and availability to their esteemed guests.
The boutique firm has distinguished itself as the master of creating superior customised experiences. The arrays of first-class services include exquisite villas, luxury cars, yachts, private jets and helicopters as well as specialised event management along with customised services.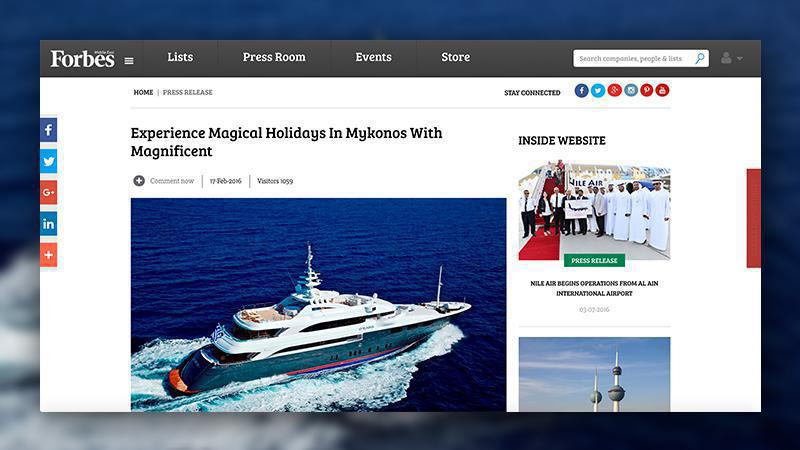 Sceenshot of the article
Magnificent reigns 15 years of experience in the realm of opulent hospitality experience and has earned an unrivalled reputation with a cache of exclusive guests, including royalty, A-list celebrities and other prominent personalities. Pioneers in presenting elite services of ultimate grandeur, the team creates an exclusive world of splendour and lifestyle in chic elegance. Their credentials have earned them connections with some of the leading luxury and fashion brands around the world. They have organised corporate and private with Conde Nast, Armani, 2Dsquared, and Neil Barret to name a few.